Montessori Methodology and Its Curriculum
The development of a healthy brain balances the intellectual, social, emotional, and the physical. In a Montessori prepared classroom this is a natural harmonious process which takes place over time. Specifically our demonstration (instruction) practices and learning materials take the child's mind naturally from and through the appreciation and understanding of "concrete" to "abstract" concepts. This is done by starting with simple activities (practical life) that graduate to increasing degrees of complexity and subjects; practical life is an extraordinary demonstration of indirect learning preparation for a 2-4 year old that provides a strong, confident, child motivated basis for writing, reading, comprehension, math, sciences, and social sciences.
West End and Highlands Montessori classrooms grounds the child's mind in real life experiences that support left, right, and synergistic mental processing. Self esteem, independence, and long term resiliency are the outcome when a child's mind moves through these normal stages gently without the interruption of fantasy or restrained movement. In a Montessori classroom "everything" can be touched!!
In all Montessori Activities we progress through this critical mental mnemonic development by incorporating the use of concrete materials and progress to blending abstract concepts with concrete examples preferably stimulation at least three of our five senses (visual, auditory, kinesthetic (touch), olfactory (smell) or gustatory (taste)) in all subject area.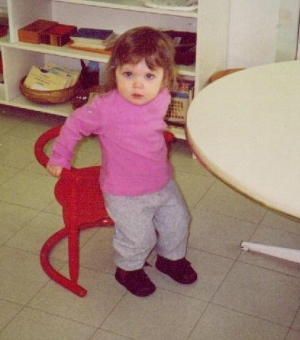 Practical Life
Creative, time-tested Practical Life activities are offered to assist the child in developing a sense of order, concentration, personal pride, independence, respect for others, fine motor skills, grace and courtesy, confidence, and self esteem.
INTRODUCTION TO PRACTICAL LIFE:
- How to roll a mat, walk around a mat, put down a chair, walking on the line, sort cutlery, pour water.
CARE AND RESPECT FOR SELF:
-Dressing frames, wash your hands, brush your teeth, clean your nails, sew a button on to cloth, pack a lunch, pour water from a thermos.
CARE AND RESPECT FOR THE ENVIRONMENT
-How to fold towels, use a dustpan and brush, how to wipe up a spill, how to plant a seed, clean a house plant, water a plant, how to clean a mirror, wash an easel, clean a place mat, clean a vinyl apron, how to sweep.
FINE MOTOR SKILLS:
- How to grate soap, mix coloured water, pour grain, package eggs, clip clothespins, color salt, to pour water in to a narrow neck bottle, discern contents of mystery bag (identification), how to weave a ribbon, stack coins in to coin wrappers.
LIFE SKILLS:
-How to wrap a present, pack an overnight bag, peel a carrot, how to butter a piece of bread, set a table, clean sunglasses, sharpen pencils, fold napkins with napkin rings, polish shoes, how to insert batteries, use a rolling pin and cookie cutters, roll a pair of socks, serve liquid with a ladle, how to dial 9-1-1-, fold a t-shirt, use clothes pegs, make orange juice, how to sift, sort garbage that can be recycled.
SOCIAL GRACES AND COURTESIES:
- The daily greeting, politely draw a person's attention, say "Please" and "Thank-You", answer the telephone, blow your nose, how to cough and sneeze.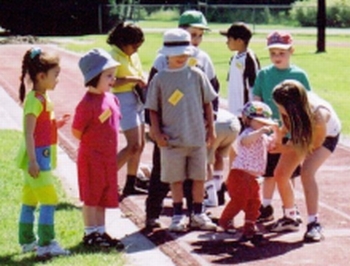 Language Arts
Through the use of a multitude of activities which stimulate both indirectly then directly the mastery of language elements: writing, reading, speaking, and comprehension. To this end, a child first learns to write starting with practical life activity then advances through to his phonetic sounds, phonetic reading, and whole word recognition. Irregular or sight words, phonograms, and blends are introduced in the advanced stages which leads to fluent (total) reading. We also document journal keeping, creative writing, whole language, and poetry.
Specific areas of Language Instruction and Demonstration
SPOKEN LANGUAGE ACTIVITIES:
- Reading to the children
- Public speaking
- Reciting poetry
- Language mystery bag
- Enrich your classroom with words
- Incorporating "whole language" in to a Montessori Program
THEMES:
- Writing before reading
THE OUTLINE:
- Starting the program
- Phonetic sounds
- Introducing the objects
- "I Spy" with sound pouches
- Metal Insets
- Phonetic Alphabet scrapbook
- Combining sandpaper letters & objects from the sound pouches
- Placing letters on lines
- Printing and sound booklets
- Insta-Learn language board
- Large movable alphabet
- Wooden language cards
COLOR CODED MATERIAL IN INCREASING AREAS OF DIFFICULTY - Pink, Blue, and Yellow:
1. Phonetic Objects
2. Phonetic Pictures
3. Phonetic Picture Cards
4. Phonetic Booklets
5. Phonetic Word Lists
PRIMARY PHONICS READING PROGRAM:
General Outline for Implementing our Reading Program
1. Primary Phonics Workbooks
2. NAMC's (North American Montessori) Mystery Words
3. Primary Phonics - Storybooks
Our Reading Program Schedule 1 - 3
High Frequency Sight Words (HFSW)
Sight Word Bingo
PARTS OF SPEECH:
- Introducing the noun; naming the farm with nouns
- Introducing the article; naming the farm with nouns and articles
- Introducing the adjective; naming the farm with nouns, articles, and adjectives
- Introducing the verb; naming the farm with nouns, articles, adjectives, and verbs.
- Word bank activity
- Creative writing
- Children's storybooks
- Reading material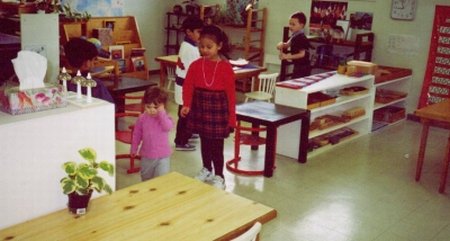 Culture & Science
GEOGRAPHY - starting with land, water, and air, and progressing to studying the world's different regions through photography, art, geo-molds, and geography puzzles.
- land, water, and air; the globe
- the continents; geography pictures, continent puzzle maps
- land and water forms
- flags of the world
HISTORY - by examining their own time line from birth to present and their own family tree, children gain their first sense of history and the concept of time is brought to life.
- the calendar
- seasons
- "My Day" sequence activity
- my family tree
- birthday celebrations
- time line of child's life
- stories of famous people
BOTANY - assists the child in exploring the biological aspects of his environment. Helps him develop an appreciation for the delicate balance of nature. The study of botany is child centered using live plants as a knowledge and interest catalyst.
-introducing the plant: parts of the plant, the root, the function of the root, parts of the stem, the function of the stem, parts of the leaf, parts of the flower, parts of the fruit, parts of the seed, growing plants outside
ZOOLOGY - children, by their very nature, are fascinated with animals. We learn about animals and to respect their needs, habits, and characteristics.
-vertebrates and invertebrates, classes of animal folders, animals of the world, the fish, the frog, the turtle, the bird, introducing a bird feeder, the horse
SCIENCE EXPERIMENTS - these activities are interesting and fun! They are all "hands on". Prediction and analysis are incorporated into each experiment and all experiments are "teacher friendly".
-magic mixture, vanishing sugars, disappearing water, how hard is ice, sink or float, volcanoes, sickly plants, colored carnations, magnetic attraction, copper cleaning.
Mathematics
Activities that incorporate the use of concrete materials. Children first learn to count to ten and systematically progress to solving complex addition, subtraction, multiplication, and division questions.
NUMBERS TO TEN:
- number rods
- sandpaper numbers
- number rods and number cards
- zero activity
- spindle boxes
- memory game of numbers
- numbers and counters
- math step board
DECIMAL SYSTEM:
- introducing the decimal system bead material
- presentation with the large number cards
- counting the decimal system material
- counting the large number cards
- combining the decimal system bead material and number cards
- change (bank) game
THE FOUR OPERATIONS:
- addition
- subtraction
- multiplication
- division
- stamp game: addition, subtraction, multiplication, and division
- dot game
- short bead stair
ADDITION:
- Addition with the short bead stair
- Addition with the small number rods
- Addition snake game
- Addition strip board
- Addition charts
SUBTRACTION:
- Subtraction with the small number rods
- Negative snake game
- Subtraction strip board
- Subtraction charts
MULTIPLICATION:
- Multiplication board
- Multiplication charts
DIVISION:
- Division board
- Division charts

Top - West End Montessori Curriculum

Back to West End Montessori